We are so excited you are here! BOPP has been in the making for about two years and we are delighted to now bring you the future of payments today!

So, what is BOPP?
BOPP is a new and secure way to request payments using the bank app on your phone.
By sending a secure Paylink or showing a QR code, someone can send you money instantly and securely on their mobile, direct from their bank account to yours.
Who is BOPP for?
BOPP can be used by anyone who uses mobile banking - of which there are over 30 million in the UK.
BOPP is a great, cost effective alternative for businesses and non-profits to collect payments instead of processing card payments. When you take card payments, there are many fees involved which begin to stack up, plus you have to wait days to receive your funds, and you also run the risk of card fraud.
BOPP is perfect for anyone who would collect payments using cards or who expects clients to type in fiddly account details to make a bank transfer. Tradespeople, hairdressers, dentists, vets, car repair garage owners, accountants, IFAs, kennel and cattery owners as well as charities, non-profits, sports clubs and PTAs can all benefit from using BOPP to accept payment.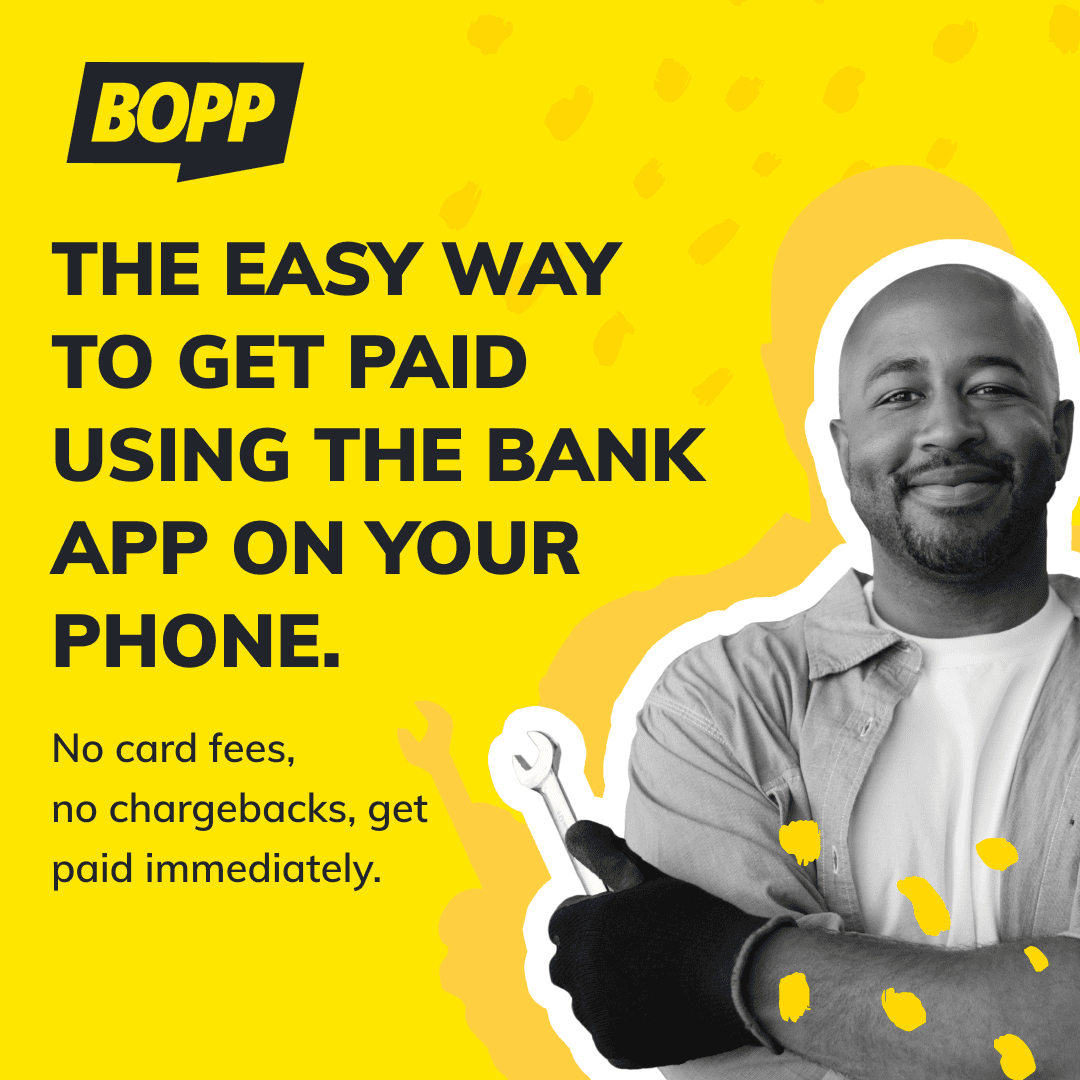 Plus, it is so easy for your clients to use, they don't need the app, they just click a secure Paylink or scan the QR code with their phone camera to pay you in seconds.
With BOPP there are no transaction fees, set up fees, minimum term contracts or chargebacks. You can just pay a flat fee of £10 a month + vat for unlimited transactions.
BOPP is also available for personal use for free. So if you need to payback a friend or do whip round - download the BOPP app from your app store.
How secure is BOPP?
It is incredibly secure, as all transactions are processed through your mobile banking security. With BOPP, anyone who requests money has their bank account verified, so you can be sure that a pay request is genuine and the money is going to the correct account.
Who created BOPP?
BOPP was created by Agitate. The Agitate team has extensive experience in building secure scalable technology for both business and consumers. In 2020, we were contracted by NHSx who benefitted from our INK C-19 COVID tracking app to help in the fight against COVID. In addition, InkPass has been widely used to assist with Test and Trace requirements.
We started in 2017 and are a company of financial services professionals, developers and engineers with a vision of making and receiving electronic payments easy for everyone with a bank account.
Why was BOPP created?
Our goal is to help small and medium businesses (and non-profit organisations) improve their profitability and cash flow. There are billions of pounds spent each year in the UK on card processing fees which are now unnecessary with BOPP.
We are a privacy-first company with security at the heart of everything we do. We embrace change and challenge the status quo of systems we believe can be improved for the good of everyone.
Yes! We would love you to try BOPP. As a business or organisation you can try it free for 30 days. Then it's just £10 a month + vat, there is no minimum term, cancel anytime.
There is no charge for personal use, simply download the app, and start BOPP'ing with your friends today!