There were almost 1.4m fraudulent transactions that took place in the first half of 2020 in the UK, with a gross loss value of over £374m1. While the industry is getting better at preventing such activity, it's still a huge issue affecting individuals, businesses and the economy as a whole.

While making payments is becoming easier and more convenient with mobile banking and payment apps, the need to remain cautious when transferring money online continues to be important.
Paylinks are a newer, more simple and effective way to pay someone. A Paylink is a web link which, when generated from BOPP, can securely open your mobile banking app and hold the bank account and payment details of the person you want to pay. This makes it easier to send money to the right person with the tap of a button, instead of fiddling about with account numbers and sort-codes, increasing the risk of errors.
Why would I use a Paylinks for my business?
In the UK, on average SMEs are chasing five invoice payments at any one time, amounting to an average of £8,500 and 1.5 hours per day spent on the admin2. Imagine the time saved in your business if you could simply send your customers a Paylink via email or WhatsApp, and they could simply click to pay you.
Are Paylinks safe?
When a Paylink is generated from BOPP, the bank account details are verified by the account holders bank. Therefore if someone requests money from you via the BOPP app, you will see the account holders name, meaning that it is impossible for someone to mislead you into paying money into someone else's account.
How do I know that a Paylink is genuine?
We all know how important it is to be cautious when it comes to clicking on links and Paylinks are no different, however we have created the Link Safe Code to help you determine if links can be trusted.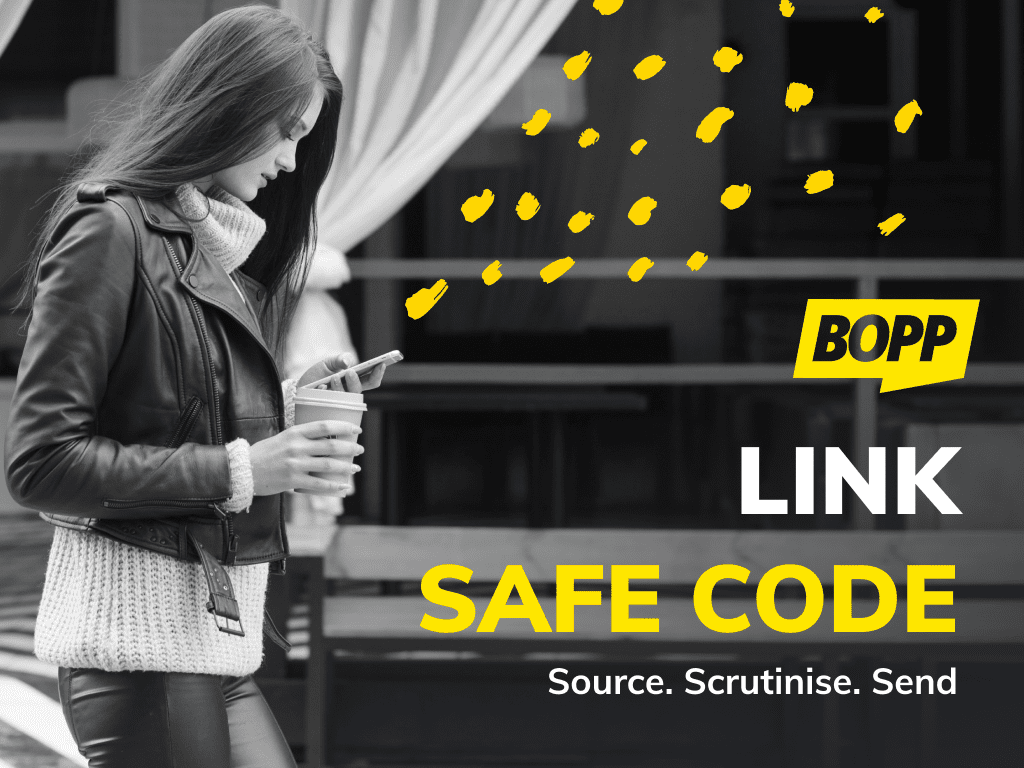 Source - Where has the link come from? Who is the sender? If it uses a third-party finance app, is that app registered with the Financial Conduct Authority?
Scrutinise - Are you expecting this Paylink? What is the content and quality of the message that has been sent? Are there any spelling or grammar errors? What does the message actually say?
Send - Where does the link take you? You can hover over a link and the destination will appear in the bottom left of your browser.
How to choose a trusted payment app that provides Paylinks:
Is the provider registered and regulated by the Financial Conduct Authority?

Is the provider connected to all major relevant banks in the UK?

Does the provider offer merchant support?

How much will it cost you to use the app and process payments?
BOPP is a bank-to-bank payment app, regulated by the Financial Conduct Authority. It is free for personal use and costs just £10 a month + vat for unlimited transactions.
To request payments you need to first registers at www.bopp.io and then download the app so you can have your account details verified by your bank. The app isn't required to make payments. With BOPP there are two different ways to send payment requests; showing a QR code or generating a secure Paylink which you can share via any messaging app or email.
You can use Paylinks to transfer money between friends and family, or to request payments from your customers.
1https://www.ukfinance.org.uk/system/files/Half-year-fraud-update-2020-FINAL.pdf
2https://www.tide.co/blog/tide-update/new-research-uk-smes-chasing-50bn-in-late-payments